The spa gardens in Bad Goisern
The oasis in the centre
Whether in spring and summer, the fresh green lawns and beautiful flower arrangements, in autumn the brightly coloured leaves, or in winter the beautiful snow covered landscape - each season in the Bad Goisern spa gardens has its own charm. For those who wish to round the afternoon off with coffee and cake, we recommend a visit to the Goiserermühle hotel restaurant.
Fun for water lovers directly adjacent the spa gardens
Spa garden Bad Goisern
Bad Goisern on Lake Hallstatt| Parkbad: Located next to the Kurpark (spa gardens), in the centre, are the sunny beaches and lawns of the Parkbad with large sunbathing areas, slides, large swimming pools and ample parking.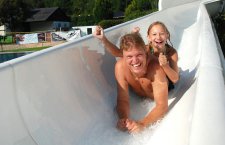 Play of colours and white splendor
Located in the heart of the World Heritage community lies the spa gardens of Bad Goisern, an oasis of calm and relaxation. Here, surrounded by old knotted trees, beautiful flower borders and a small stream you can have a relaxed read, enjoy the silence or dream the day away.
For those who like it a little sportier, we recommend a round of mini golf; the course is open daily from May to September. The large wooden train in the adjacent children's playground will make the hearts of the children beat faster. This way you can combine a round of min golf with fun and games for the kids.
Events
Date: Fri, Aug. 25, 2017
Ort:  Bad Goisern, 4822 Bad Goisern
For fans of traditions & folks music! Om the End of August: For nowhere else than in Chamois Hunting Days are the old traditions maintained with so much humour and winking of an eye.
Information at a glance
Location: Direct in the centre, a 5 minute walk from the train station
Parking: In front of the park near World Heritage School and Heimatmuseum
Playground with numerous adventure opportunities
Mini golf course (open from May to September)
"Parkbad am Kurpark" open-air swimming pool (open May to October)
Refreshments: Hotel and Restaurant Goiserermühle
Tourist Office Bad Goisern
Ferienregion Dachstein Salzkammergut
Tourismusverband Inneres Salzkammergut
Kirchengasse 4
A- 4822 Bad Goisern, Österreich
Phone: +43 (0) 6135 / 83290
E-Mail: info@dachstein-salzkammergut.at
Bus stop: Bad Goisern Mitte/B145

Opening times Tourist Office Bad Goisern:
December to May: Mon – Fri 8:30 - 17:00 hrs. / Sat, Sun & Holidays 9:00 - 13:00 hrs.
June to October: Mon – Fri 8:30 - 18:00 hrs / Sat, Sun & Holidays 9:00 - 15:00 hrs.
November: Mon – Fri 8:30 - 17:00 hrs. / Sat, Sun & Holiday closed