Mühlradl

Mühlradl

Liubov Ogarkova
Nr. 621

,

4824

Gosau
Spacious, comfortable and traditionally furnished apartments located in the picturesque village of Gosau with direct views of the Gosaukam. A photographers paradise!
Your Offers From 26. January To 28. January Change travelling data
2 results:
Two-Bedroom Apartment
Without meal
€ 354,00
for 2 nights
Average per night: € 177,00
Equipment:
TV, Non smoking room, Cooking unit, Kitchen unit, Telephone in the room, CD player, Size in sqm, Satelite TV, Dishwasher, Bathrobe, Microwave, Wifi, Windows possible to open, Coffee and tea cooking facilities, Seating, Vanity mirror, Bed linen available, Hair dryer, Radio, Dish and kitchen linen available, 1 bedroom, Refrigerator, Toaster, Double bed, Towels available, Studio couch, Oven, Handicapped accessible
Location:
Park facing, Main building, Mountain facing
Sanitary:
Separate lavatory, Windowed bathroom
One-Bedroom Apartment with Balcony
Without meal
€ 354,00
for 2 nights
Average per night: € 177,00
Welcome to the Muhlradl,
family run apartments where guests return year after year
A friendly family-run apartment house located in Gosau, Dachstein West, Salzkammergut. Superb summer & winter location, with a breathtaking view at the Gosaukamm mountain range.
Friendly family run-holiday apartments located in Gosau, Dachstein West, Salzkammergut. Comfortable and traditionally furnished accommodation with beautiful mountain views. Excellent year round location and just a few minutes drive to the stunning Gosau Lake - a must see for all visitors to the region. Sightseeing, walking, hiking, cycling, mountainbiking, scuba diving, paragliding and much much more........
More listings by this host:
The Obertrauner Hof offers 12 large en-suite bedrooms, which are spacious and comfortably furnished.
Large balconies in many of the rooms provide stunning views across the village to the Dachstein Massif.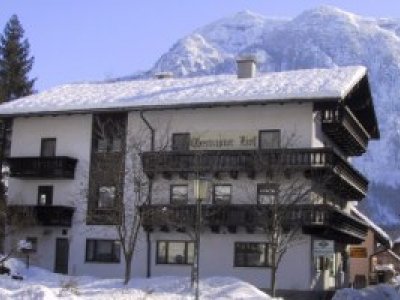 Welcome to the new website of the Hornspitz Family Apartments, a perfect place to stay for families, sportsmen and visitors in Gosau, to enjoy comfort and ambience of homelike apartments.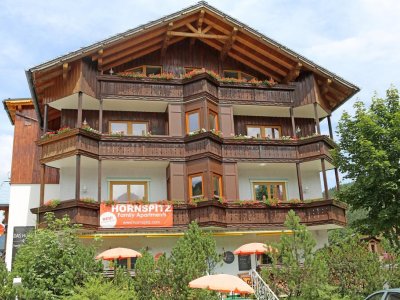 Facilities
Location
In the mountains
Distance to next train station (in km): 15
Distance to the lake (in km): 3
Distance to next ski lift (in km): 1
Rural area
Distance to the forest (in km)
Service
Baby-sitter service
Airport shuttle/ transfer service
Ski cellar
Parking area
Credit cards
Beverages on purchase
VISA
Pick-up service from next railway station
Shuttle/ transfer service
Pets on request
No board included
Child-friendly hotel
Eurocard/Mastercard
Train station shuttle/ transfer service
Skibus leaving from the hotel
Lawns for sunbathing
Day care (children)
Laundry service
Capacities
Number of beds: 15
Number of apartments: 5
Equipment
Wheelchair accesible
washing machine in the house
Baby chair
Children's playroom
Familial ambience
Sauna
Rustic ambience
Baby cot
Internet usage possible
Wifi
Room with Balcony
Non-smoking host
Comfortable ambience
Leisure/Sport
Hiking trails
Garden
Playground
Bike rental
Table tennis
Barbecue facilities
Themes
Ski and winter sports
Families
Hiking/nature
Mountains
Conditions / Extras
Cancellation
- up to 1 month before arrival cancellation is free
- if the booking gets cancelled less than 30 days before arrival, 100% of the price will be charged. (This also applies on "No Shows")
Others:
Pets on request (Price: € 40,00.- per stay)