Snowshoeing from the Hornspitz lift
Enjoy the beautiful scenery of the World Heritage region of Hallstatt / Dachstein Salzkammergut whilst snowshoeing in Gosau. Pure nature experiences off the beaten track: Enjoy the peace and grandeur of the winter wonderland to the full and take in the idyllic and romantic atmosphere of the Dachstein West ski region.
Complete silence, only the soft crunching of snow accompanies snowshoers from the Hornspitzlift middle station (1200m) to the top station (1433m). Even though the snow is deep, you barely sink in and walk as smoothly and safely as on a well groomed trail - only better. The nearly two-hour tour takes you past the quaint Zeishofalm and rewards winter hikers in the Dachstein West ski region at the end with a breathtaking panoramic view of the imposing Dachstein and the surrounding mountains. Good warm and breathable winter hiking clothes makes snowshoeing in Gosau a pleasure.
Events
Mon, Dec. 11, 2023 09:45 — 13:00 Valley station of the Hornspitzlift, Gosau
Thu, Dec. 14, 2023 09:45 — 13:00 Gasthof Gosausee, Nr. 395 Gosau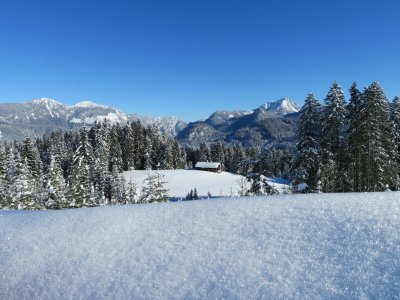 Fri, Dec. 15, 2023 09:45 — 15:00 Valley station of the Hornspitzlift, Gosau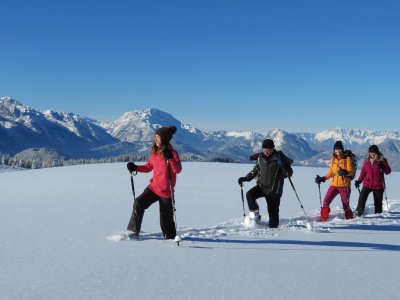 Do you love to experience unusual original nature? Then you should definitely give snowshoeing a try. Enjoy the silence of winter, experience the untouched nature and immerse yourself into the enchanted winter wonderland far from the crowds and hustle and bustle.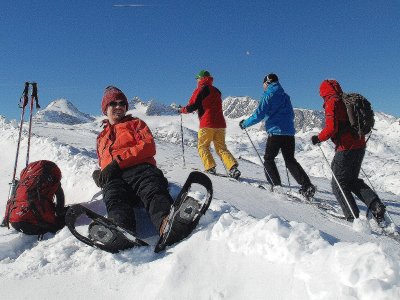 Book your adventure now!
Whether you're a beginning or an experienced skier, the multi-page web portal of the holiday region Dachstein Salzkammergut (www.hallstatt.net, www.gosautal.net, www.bad-goisern.net and www.obertraun.net) offers a wide variety of resources including information about skiing, accommodations, and other news concerning winter sports in the world heritage region. Endless kilometres of ski slopes await discovery in the family-friendly ski regions of Dachstein West in Gosau and the Freeride Arena on the Krippenstein in Obertraun on Lake Hallstatt. For weekend excursions or unforgettable week-long adventures in snow, you'll find the most beautiful hotels, holiday apartments and bed & breakfasts in our extensive accommodations registry. Book your holiday now—get out there and enjoy the winter paradise of the UNESCO World Heritage Region of Hallstatt Dachstein Salzkammergut.