Snowshoe Trail 1 in Dachstein West
Enjoy the silence
The snowshoe trail leds through alpine terrain and should be used only by experienced hikers with appropriate equipment in good and safe conditions. The trail is marked with red poles and yellow signs, distance between poles approx. 30-40 m. Please be careful when crossing the slope - walk on the trail at your own risk!
'Törleck'. From there, you continue to the mountain station of the Gosaukammbahn (operating only in summer) where a fascinating view of the rugged and snow-covered rocks of the Gosaukamm ridge awaits you. Then the trail leads in a westerly direction past the 'Gablonzerhütte'and 'Breininghütte'along the ski trail towars the 8-person cable car 'Panorama Jet'. Shortly before crossing the slope, you come to a small hill, where you can enjoy a fantastic view of the impressive Dachstein glacier with the highest mountain in Upper Austria, the 'Hohe Dachstein'(2996 m).
Dachstein West Tip:
From the mountain station of the eight-person Panorama Jet lift, we recommend hiking just a few more metres up to the 'Gosaunet-Platzl' (viewpoint) - a small hill next to the mountain station of the 4-seater chairlift 'Aussichtsberg'. There you have a fantastic panoramic view of the 'Hohe Tauern´range with the highest mountain in Austria, the 'Großglockner'(3798 m), the 'Hochkönig', the 'Tennengebirge', the 'Höllengebirge', the 'Tote Gebirge', and the Dachstein massive, including Dachstein glacier and the 'Gosaukamm'.
Stop for a bite to eat: Enjoy a hearty snack in the 'Gablonzerhütte', 'Breininghütte', 'Sonnenalm'or 'Ausblick'alpine huts.
Guided snowshoe hikes on the Zwieselalm
Mon, Dec. 11, 2023 09:45 — 13:00 Valley station of the Hornspitzlift, Gosau
Thu, Dec. 14, 2023 09:45 — 13:00 Gasthof Gosausee, Nr. 395 Gosau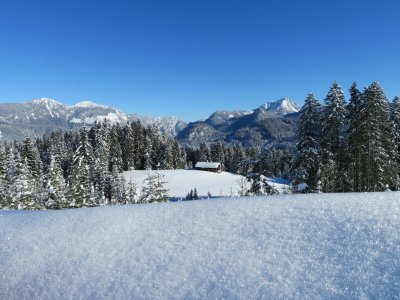 Search and Book
Hotels and accommodation providers in Hallstatt, Bad Goisern, Gosau and Obertraun offer the ideal room or apartment for your holidays, no matter what your tastes. Aside from establishments rated according to the international "star" scale, you will also find around Lake Hallstatt in Austria businesses that have been awarded two to four "edelweiss". The more flowers, the greater comforts you can expect. Whether you eventually find your cozy nest in an elegant 5-star luxury hotel, at comfortable guesthouse, a family-friendly apartment, or on a traditional farm, the choice is always entirely up to you.