Restaurant "Im Kainz"
World-class cuisine: In our restaurant "Im Kainz" you can expect delicious Austrian classics and regional specialties from the Salzkammergut. "Im Kainz" - a culinary meeting place for our international guests and gourmets from the Salzkammergut. Start your day with a delicious breakfast in the Heritage.Hotel and get ready for the day in a perfect setting! Daily we spoil you with an amazing view to lake Hallstatt, fresh brewed Austrian coffee, selected Ronnefeldt Tea and sparkling wine. Our breakfast buffet offers you bread from our local bakery, smoked fishes, fresh fruits and tasty croissants. Moreover you will find scrambled eggs, sliced pancake and bacon in the warm dishes corner. Either on our lakeside terrace or in our Restaurant - Hotel guests, local people and day visitors are more than welcome.
Breakfast "At Kainz"
daily from 7.30 to 10.30 hrs.
17.,- Euro per person including all drinks and coffee
Café "At Kainz"
Do not miss our delicious cakes from Kurt! Kurti's is the most famous pastry in our region. Enjoy fresh cakes daily from May to October.
Restaurant "At Kainz"
Austrian specialties and creamy sundae. From April to the end of October we spoil you with light meals, hearty meat-specialitites and refreshing fruits from our daily menu. The Restaurant "Im Kainz" is open daily from 11 am to 22:00 hrs. From November to April we are open from 5 pm to 9 pm.
We are looking forward to welcome you!
Sights in the cenre
Hallstatt | With over 1200 skulls (more than 600 of which are painted and sorted by family), this small chapel is one of the most popular locations with visitors to Hallstatt.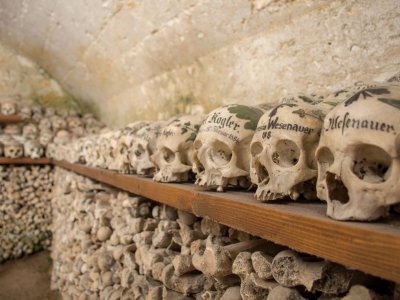 How did the people of Hallstatt live in the past? How did they earn their crust? The answers to these and other questions will be provided on a journey through time of the extra class in the heart of Hallstatt. Open all year!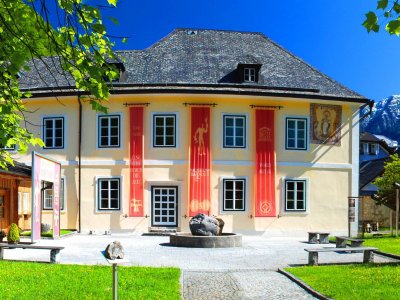 Search and Book
Hotels and accommodation providers in Hallstatt, Bad Goisern, Gosau and Obertraun offer the ideal room or apartment for your holidays, no matter what your tastes. Aside from establishments rated according to the international "star" scale, you will also find around Lake Hallstatt in Austria businesses that have been awarded two to four "edelweiss". The more flowers, the greater comforts you can expect. Whether you eventually find your cozy nest in an elegant 5-star luxury hotel, at comfortable guesthouse, a family-friendly apartment, or on a traditional farm, the choice is always entirely up to you.

.