Dripstone features in the valley: Koppenbrüller Cave.
Dripstone features in the valley:
The water-bearing Koppenbrüller Cave is located in the valley and can be accessed via a short walk along a secure trail by the charming Koppentraun river. Admire dripstone features which date back thousands of years and listen to the crashing of the invisible brook inside the mountain. A visit to the Koppenbrüller Cave, the youngest of the 3 Dachstein caves, offers an impressive insight into the underground waterways of the inside of the Dachstein. Pathways secured against flooding mean that guests can visit in safety, even in bad weather!
A fascinating tour at Koppenbrüller Cave:
From the Koppenrast guesthouse at the end of the Obertraun resort, a comfortable footpath leads along the Traun to the cave entrance (approx. 15 mins). The cave entrance is a karst spring which only overflows with any significance following very heavy rainfall or snowmelt.
Music from an underground world
The installations of the Art University also ensure guests enjoy an exceptional experience within the Koppenbrüller Cave! Drums stand on high stilt-like supports within the cave. When the water drips down from the cave roof, a rhythmic drumming sound emerges which is reminiscent of the shaping power of the water which once created the cave.
Inside the cave, brooks are constantly in flow. During the 1 hour cave tours, guests gain insight into the development of the caves and can see for themselves how the dry stream bed in the 'Simony hall' is transformed into a crashing brook in just a few minutes during times of heavy rainfall or snowmelt. Past the 'Low Rubble Hall' and 'Hannakluft' abyss, you will reach the origin of the cave brook – the Bocksee lake. On the way back, you can see dripstones and wall calcite which have formed over the centuries.
The history of the Koppenbrüller Cave:
In one Salzkammergut travel guide from the 19th century, the Koppenbrüller Cave is described as a 'famous show cave'. Since there were no regular tours in those days, it can be assumed that locals showed interested visitors around the cave. The famous Dachstein researcher Friedrich Simony visited the deepest sections of the cave on several occasions. Eerie tales such as that of the spirit of Hofer Sef, who died in the cave, were probably all part of the tour repertoire. There has been tourist access to the trails with pathways and regular tours since 1910. Over the decades that followed, legendary tour guides like Sepp Schilcher and Alois Schenner have helped to develop the Koppenbrüller Cave. Today, the Koppenbrüller Cave is a popular excursion for all the family!
Events
Mon, Jul. 4, 2022 Koppenbrüller cave (Koppenbrüllerhöhle), Obertraun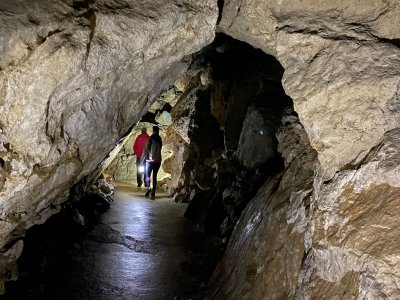 Sun, Sep. 4, 2022 12:00 Koppenwinkelalm, Obertraun