Mountain weather - The hiking and climbing weather
When hiking or climbing in the UNESCO World Heritage region of Hallstatt Dachstein Salzkammergut, it is always an advantage to keep an eye on the current mountain weather. Whether it's a sightseeing trip to the 2000 meter high Krippenstein to the "5Fingers" viewing platform, a family hike on the Zwieselalm in Gosau or a climbing tour on the "Seewand" in Hallstatt. We keep an eye on the current mountain weather for you.
Mountain weather news
for hikers and climbers
in the Salzkammergut area
Thursday
Foggy. in places, then sunny for a long time.
No rain in sight.
Friday
Just a bit of fog.
Then a mic of sun and clouds.
Saturday & Sunday
Dry high pressure weather with a few hours of sunshine.
Ideal hiking and climbing weather.
Fixed distant view!
temperatures in the mountains
2000m: 10°C
1500m: 16°C
0800m: 20°C
Update:
05.10.2023
More weather
here...
Note
Edited mountain weather report.
Compiled by meteorologists.
Subject to change
World Heritage mountains
2000 m: Mount Krippenstein Obertraun
1500 m: Zwieselalm Gosau
0800 m: Mount Salzberg Hallstatt
Hiking latest
Current trail closures and more...
Dear hikers and nature lovers, below we would like to inform you about current trail closures in the UNESCO World Heritage region of Hallstatt Dachstein Salzkammergut. This way you are informed even faster about current occurrences in Hallstatt, Gosau, Bad Goisern on Lake Hallstatt and Obertraun; and you can start your hiking day in a relaxed manner.
News for hikerson the
historical Brine Trail (Salzkammergut Soleweg)
Section Hallstatt - Bad Goisern locked
Section Bad Goisern - Bad Ischl open
Section Bad Ischl - Ebensee locked
Dear hiking friends, good news from the Salzkammergut Soleweg. The section between the Bad Goisern district of Steeg and Bad Ischl has been hikeable again since mid-July 2021. The rest of the trail in the direction of Ebensee will be reopened in 2022. The section from Hallstatt to Steeg (Bad Goisern) will then take place in 2024 - just in time for the Capital of Culture Year.
If you still don't want to wait that long and want to hike from Hallstatt to Bad Ischl, we can recommend the following alternative:
From Hallstatt by ferry to the station, on the "Ostuferwanderweg" (east shore hiking trail) to Steeg and then on the Salzkammergut Soleweg via Bad Goisern and Lauffen to Bad Ischl. The walking time for this alternative is about 6 hours. Refreshment stops: Weißenbachwirt, Steegwirt or Seeraunzn. We wish you a pleasant hike!
Another note for hikers in Hallstatt: The ascent via the Soleweg from Hallstatt to the Salzberg remains closed and parts of the World Heritage Hiking Trail in Hallstatt are also not accessible at the moment. Thank you for your understanding. Your editorial team.
Up-to-date information for hikers on the Salzkammergut "Soleweg" Rock clearance work and forest maintenance along the "Soleweg" (brine pipeline path) - observe closures!
The annual rock clearance and forest maintenance work will be carried out along the "Soleweg" from 3rd April until probably 5th May 2023. The section from the Kaiser hunting statue, in Bad Ischl, to Steeg is affected. During the work, the path will be temporarily closed to protect the population from falling trees and rockfall.
For your own safety, please observe and respect the closures along the brine pipeline path and the instructions of the ground staff! After acceptance of the path by the responsible regional geologist, the entire path from Steeg to Ebensee will be opened for general use by mid-May at the lates
Pleasant paths, rugged rocks
Tie your boots, pack your rucksack and just start hiking. Through roads and alleys, past lovingly painted houses and friendly people. Out of town,into nature. Stimulating, exciting or calming – all around Lake Hallstatt and the Gosau Valley you can experience and walk the rough beauty of the breathtaking Alpine mountains.
Let your mind wander into the vast Alpine landscape. Across blooming Alpine pastures, rugged mountain ranges, deep blue lakes and crystal clear streams. Wild and real, gentle and calm. A world of contradictions – incomparable enjoyment. Past the Mout Sarstein mountain range all the way to Moun Krippenstein in Obertraun on Lake Hallstatt. Moments you will never forget. The daily grind moves far away and you can clear your head, as clear as the high Alpine mountain air. You might get to know yourself a bit better. You almost wish you will never arrive at your destination. That´s hiking in the UNESCO World Heritage region of Hallstatt Dachstein Salzkammergut. Enjoy it!
Unforgettable nature experiences. Guided hikes you will never forget. Friendly hosts. And lots of events. Always with a lot of customs and tradition. This and much more is available at "Mountain Moments". Experience the mountains from a completely new perspective. It's time for a new adventure!
Hiking offers in the Salzkammergut
With the new "Hike & Surf" combination ticket you can visit two highlights in Ebensee. The ride on the Feuerkogel cable car at 1,600 metres above sea level followed by surfing on "The Riverwave" in Ebensee.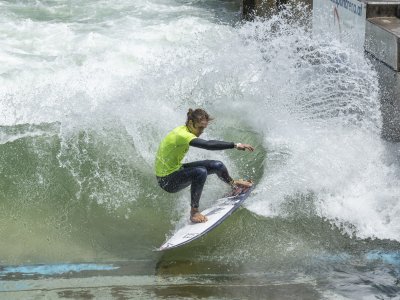 Breakfast on the mountains - guided hikes. The mountains are there to be conquered! From you. And we have the best mountain events for you. this is your time These are your mountains. Do something outside