Discover Bad Goisern
An idyllic holiday destination, all year round
With all its magical charms, you will never want to leave! An inspirational retreat for philosophers, literary figures, artists and emperors. Experience the intimate atmosphere of this beautiful region. You will feel truly at home, and once here, you will know in your heart that there is no place you would rather be! The broad, tranquil Goisern valley stretches fromHallstatt in the south to Bad Ischl the Emperor's summer residence, to the north. A popular resort in both summer and winter, swimming or cross country skiing, mountain biking or and snowshoe hiking are among the many leisure pursuits Bad Goisern has to offer. Bad Goisern, located in the heart of Upper Austria, offers that perfect combination of sport facilities, nature, culture and historic tradition.
Winter time
You love skiing, snowboarding, carving or freestyle skiing. Then, Dachstein Salzkammergut is the right place for you. In this region you will find conditions that make your heart beat faster.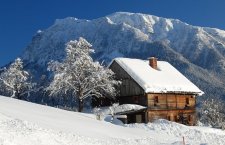 Sights of this World Heritage region
In 1997, Hallstatt was listed as a UNESCO World Cultural Heritage Site. This culturally historic region is now known as the Dachstein Salzkammergut-region. Amongst Hallstatt's numerous "treasures" are the World Cultural Heritage Museum, the archeological excavations, the catholic church with its mountain grave yard and "Charnel House".
UNESCO World Heritage region
Since living memory it was the salt which provided the wealth for the Inner Salzkammergut. The salt is the basis for the typical ancient customs and interesting cultural peculiarities.
MOM - Memory of Mankind in Hallstatt
The knowledge of our time, our everyday life and our culture in a unique archive. Do you just want to leave your tombstone? If you do not take part, will never have existed!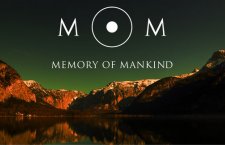 Tours
There is also plenty to see in the nearby surroundings of the Dachstein Salzkammergut region. A trip to the city of Mozart, Salzburg city, will round off your winter holidays or summer holidays in Austria.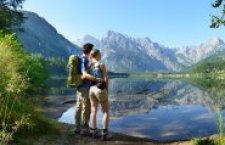 Progr. for bad weather
Day trips to the surrounding area of Dachstein Salzkammergut are a fantastic alternative to the various sports activities at the holiday region. There are marvellous opportunities for bad weather programmes in Hallstatt, Gosau, Bad Goisern and Obertraun.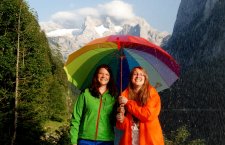 Active
Take a tour by E-Bike around Lake Hallstatt and see the area from a new perspective. The bikes give you extra power and ease the strain on your joints.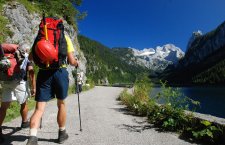 Family events
The Nature and Mountain Adventure World at the Dachstein-Krippenstein-area offers many exciting adventures with plenty of things to explore and lots of exercise. And the kids will not be the only ones standing in awe at the Adventure World of Koppenbrüller Cave.
Dirndl To Go
Hallstatt | Rent a "Dirndl" for your photos on the most beautiful places in world-heritage-village Hallstatt to remember your great vacation in Austria. Why you need to pack a good bra for your Austrian holiday?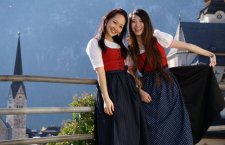 Pictures
Pictures say more than words … Discover our wonderful and liveable Dachstein Salzkammergut region and browse through more than 2,000 pictures, snapshots and panoramic views of sights, events, and much more.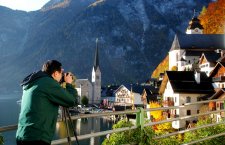 The region around Lake Hallstatt
Nowhere else will you experience so much natural variety and breadth of experience. With numerous crystal clear lakes and breath-taking mountain scenery, this "Hallstatt - Dachstein/Salzkammergut" region of outstanding natural beauty welcomes visitors time and time again.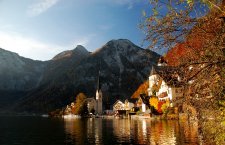 Rustic! Incomparable! Simply Irresistible!
Simply get away from the hustle and bustle, surrounded by nature, cowbells ringing instead of your smartphone…. Holidays up on an Alpine pasture, or in one of the many mountain huts, are becoming increasingly popular. But it is not always easy to find the "right" Alpine pasture or mountain hut. Therefore, we have compiled the most beautiful "Mountain service stations" for you, with stunning panoramic pictures and the most important information for all "newcomers" and World Heritage hikers. As it is usual in the Simonyhütte, the Adamekhütte or Hütteneckalm in Bad Goisern to greet people informally with a "Du" rather that the formal "Sie", as we say here in the UNESCO World Heritage region of Hallstatt Dachstein Salzkammergut…. "Grias di"!
Informationen at a glance
Contact
Tourist Office Bad Goisern on Lake Hallstatt
Ferienregion Dachstein Salzkammergut
Tourismusverband Inneres Salzkammergut
Kirchengasse 4
4822 Bad Goisern, Österreich
Austria
Phone: +43 (0) 5 95095 10
E-Mail: info@dachstein-salzkammergut.at
Bus stop: Bad Goisern Mitte/B145

Opening times
Tourist Office Bad Goisern
November to April: Mon – Fri 8.30 - 17:00 hrs.
Sat./Sun./Holiday 9.00 - 15.00 hrs
May to October: Mon. – Fri. 8.30 - 18.00 hrs.
Sat, Sun & Holidays 9.00 - 15.00 hrs.